Ceramic Crown Molding and Shampoo Shelves
Ceramic crown measures 11 7/8x3x3 and fits perfect over a 12" tile, only one tile
cut. Porcelain shower niche in matte white centered under shower head. Wall tile is Daltile "City View" 12x12 cyo1 with Deco accent CS 70.
Kohler Fluence Framless shower door 3/8" glass, no frame on bottom edge of door. Kohler cast iron 30x60x31/2" high shower pan,"best pan" in my opinion, easy to install, clean and doesn't promote mold growth like a mud set tile floor. Kohler Forte shower valve and head. Recessed porcelain soap dish used as a foot rest to left for washing or shaving legs.
Actually this is the "best shower pan" available right now, I think Sandbar or the Cashmere colors would be the best to work your color scheme around. 36"x60" Need a little extra room by the toilet as 12" from toilet center to the glass door is code. Or go with this 48" model if you prefer a 12" seat in your five foot space.

Deep tub Aker SBF 3260 x 20 inches deep. I feel the best 5 ft tub on the market. Daltile 6x6 gloss artic white 0190 wall tile, gray accent X114 and P500 Steel 13x13 floor tile. Centered three compartment gloss white shampoo soap recessed shelf.
Vertical stagger shower tile idea
New shower tile design idea, the shower tile above was layed out with a brick bond pattern vertically, a "vertical stagger".
*
When buying faucets, shower valves, towel bars, t/p holder and towel rings " buy a matching Moen or Kohler series of bathroom accessories". Its the easiest and looks the best.
9 x 13 Sentus shower wall tile placed on a vertical stagger. Aker 36x36 white shower base, Kohler Fluence frameless swing door. Matte almond niche installation link. Moen Caldwell shower and widespread lavatory valves. Kohler Cimarron ADA elongated toilet. Kraftmaid matching vanity, over the toilet and framed mirror. Custom granite top with smaller Kohler 2209 15" x 12" undermount sink in white. Moen Caldwell series matching toilet paper holder, towel bars and towel ring.
B
ig Bathroom Shower Tile Design Ideas
This large shower area is a 5 ft x 3 ft Aker shower base with a Madurai Gold granite seat. Moen shower valves with handheld shower head. Kohler Fluence frameless shower door in brushed nickel. Recessed matte white shampoo and soap holders. Tile is Esquire Normandy 12 x12, Twilight color with Custom Quartz color grout. Everything within reach while seated.
Our small bathrooms are normally completed in 5 days, In Monday out Friday.
Two sink bathroom vanity Madurai Gold granite countertop, matches shower seat. Moen lavatory sink valves, Kohler 2210 white undermount sinks.
Convert tub area to large 5 ft tiled shower Springfield Va.
Moen "Eva" shower valve, rod and handheld shower head. Makes cleaning the shower area easier. 32" x 60" Aker shower base. Kohler fluence frameless shower door. 13 x 13 field tile with 1x1 mixed marble mosaics, matte white one piece recessed shampoo soap niche.
Get rid of one of those tubs in your home and put in a shower a with seat. I would say 98% of my customers take showers 98% of the time. Don't worry about resale, its not like you are putting in a swimming pool. A window at shoulder height in the shower is my favorite upgrade.
One Piece Slab Granite Bathroom Floor
Click to view a slide show of 4 men setting a 500 lb granite floor on Remodeling Magazine's website!
I've never seen a one piece granite floor and thought it was a good remodeling idea, five men to set it in place.
Bathroom Remodeling by Mark Daniels
*
Burke Bathroom remodel. Lowe's mirror and pendant lights.
One piece slab granite floor and "L" counter top is Spectrus Brazilian granite, all splashes and base are "booked" pieces. Thanks to Majid, my excellent granite and solid surface associate. Decolav tempered 17" glass sink. Black Kohler Cimarron one piece toilet. Pegasus single handle vessel valve. Wall hung Kraftmaid vanity 36 x 18 frig cabinet 21" depth. For bathroom lighting ideas, I have a pendant on each side of the face, lighting under the vessel sink and also lights below the vanity cabinet held 12" off the floor. All lights dim together on the same Lutron dimmer.
Click to view a slide show of 4 men setting a 500 lb granite floor on Remodeling Magazine's website!
Springfield Virginia Bathroom Remodel
I like glass tiles in the shower accent strip at eye level so you can admire their beauty. I also place the ceramic shampoo soap dish at viewing height centered on the accent. Kohler Forte valve, Kohler Villager cast iron tub and Daltile Aspen Lodge, color Golden Ridge stacked 6 x 6 tile with Multi Deco accent strip.
Brazilian Brown Silestone bathroom vanity countertop, undermount Kohler Caxton #2210 sink, Forte valve on Kraftmaid vanities. Daltile Aspen Lodge octagonal floor tile
Small Bathroom Remodel
Small " Kohler "bathroom remodel with tub changed to shower only. A seat in a shower is half way to having a tub. Daltile Travata 12x12 tiles with brown granite seat and shelf. Kohler elongated Cimarron toilet. Kohler frameless shower door. Kohler Forte valves and matching accessory suite including towel bars, towel ring and T/P holder. Kohler shower pan and drain. Almond 12x12 recessed soap shampoo shelf.
Kids bathroom with recessed shampoo soap dish, easy to clean. Aker 20" deep jetted tub with tiled front skirt. Kohler frame less shower door. Simple tile accent area between deco tiles.
Bathroom remodel with Velux skylight installed through the roof. Strasser woodworks 36" furniture style (legs) bath vanity. Kohler Cimarron comfort height toilet (taller). Rosa Beta Granite vanity top.
2008-2009 DC area Bathroom remodeling costs report
Sully Station small tub shower bathroom
remodeling This standard size 5'x8' bathroom remodeling consists of a Aker 3 tile flange soaking 5ft x 20inch deep tub. Notice the front skirt is tiled to create a rich custom look. Tile is 10x14 on walls running bond with floor 12 x 12 on diagonal using Daltile Salerno SL83 color " Marrone Chiaro". Can you say that three times fast? Shower door is Kohler frame less. Toilet is Kohler Cimarron comfort height, plebe front. Shower tub valve is Price Pfister with shampoo and soap recessed in matte finish. I like the matte better than the glossy.
Fairfax Small Bathroom Shower Only Remodeling
Picture of small bathroom granite counter top on 30" Pegasus bath vanity with 3 drawer design.
Daltile Brancacci 3 x 6 subway size bathroom shower wall tile and 12 x 12 floor tile on diagonal. Toto Drake round front toilet pictured, Aker 32 x 60 shower base. Kohler 3/8" glass frame less shower door. George Mason University neighborhood.
Chantilly Bathroom tile remodeling pics
Kohler Captiva 34 x 60 shower base pan with 10 x 14 Dal tile "Salerno" Cremona Caffe colored tile. Universal accent pieces and still wet Custom Haystack grout that will dry to match the tiles. Notice picture of full diagonal half cuts at shower pan and right wall in this 59" wide bathroom. Bathroom Shower valve set in middle of accent strip. Accents in 12x12 floor idea, " ties" floor to walls. Toilet is Kohler Cimarron 1 piece elongated.
<p>
In these bathroom remodeling pictures, the customer chose Strasser Woodworks 4 ft vanity with matching recessed medicine chest and framed mirror. Bathroom shower valve and vanity sink valve are Moen Showhouse "Solace Collection" with Moen matching towel ring, toilet paper holder and towel bar.
Fairfax Powder bathroom remodeling
Kohler Memoirs Suite pedestal sink and one piece toilet. Moen Monticello series bathroom pedestal sink valve. Sconce on each side of the mirror, crown molding, chair rail and 6'' tall base
Small Bathroom Remodeling Pictures
Manassas small bathroom remodeling of a 5x8ft side entry with American Standard pedestal sink, tiled floor and shower walls. 6x6 tile in a brick bond pattern with
simple inexpensive accent strip. Fairfax master bath remodeling before and after
Master bathroom remodeling with wall removal (no painting yet), added Jacuzzi tub, diagonal tiled floor, separate shower with dual showerheads and granite seat. Tub, toilet and Aker shower pan are in Bisque color. Toto Drake ADA (2" taller than normal) elongated bowl toilet with "soft close" seat. Get a toilet with a flush rate of 500 grams or better . Toilet Flush Ratings and ADA Accessibility Guidelines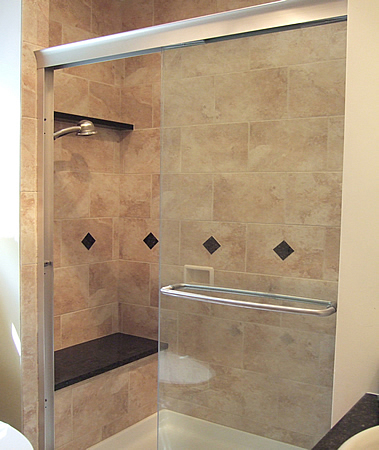 Bathroom shower has Uba Tuba granite tile inserts to match slab vanity top, shower seat, wall cap and shampoo shelf. Recessed ceramic soap dishes pictured at standing and seated shower heights. Brushed nickel (doesn't show water marks as easy) frame less Kohler 1/4" glass 4ft shower door (easier to clean).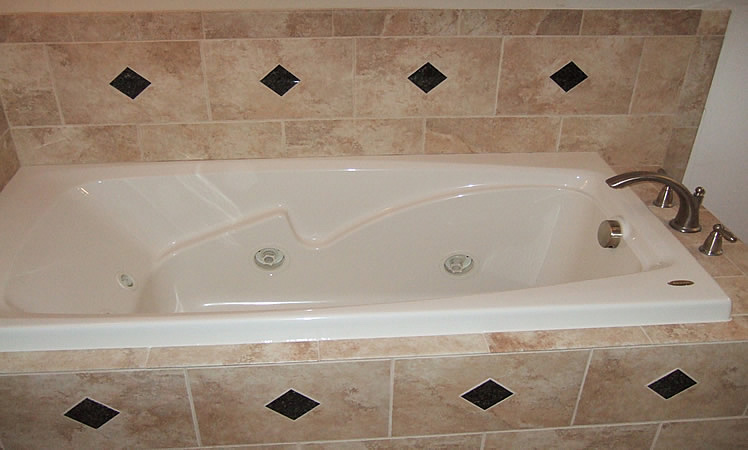 Bathtub is a Jacuzzi Cetra ( comfortable for a five footer) 5ft x 19 inch deep in Bisque with Moen Brantford brushed nickel roman tub filler, shower valves and bathroom lavatory faucets.
Picture of a bathroom layout plan. Granite Uba Tuba counters, shower seat and shampoo shelf. A Warmly Yours heated floor. Dal ceramic tile SL81 Nubi Bianche 10x13 in shower with granite accents, floor 12x12 with border.
Contact Mark Daniels for kitchen or bathroom remodeling estimate
Chantilly Master Bathroom Remodeling
The perfect bathroom "vanity" lighting, theatrical lighting each side of the face. Round porcelain tiled bathroom shower window.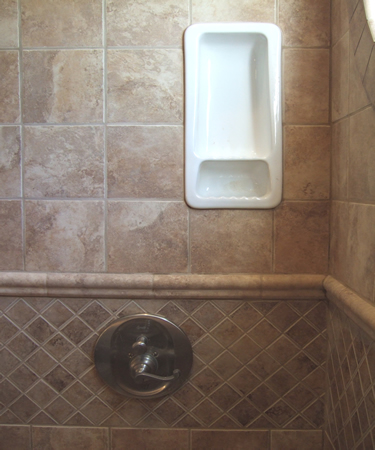 <p> I try to make the middle of the accent strip in the tub or shower be the middle of the valve. Bathroom mirrors. Diagonal porcelain floor tile with border. Kohler Villager cast iron bath tub right hand.
<p>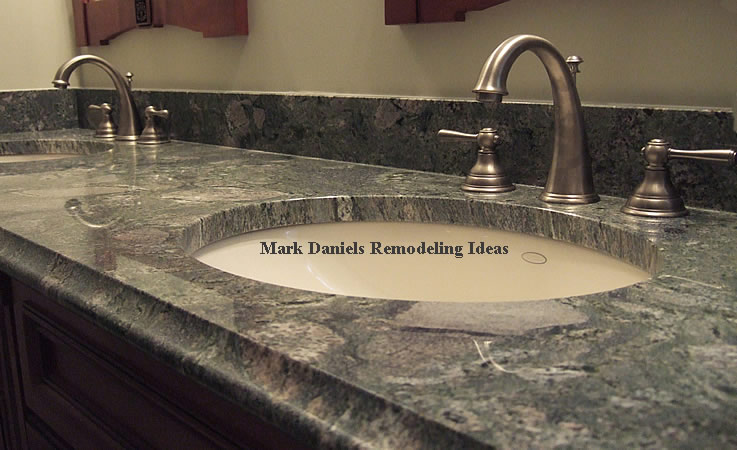 "Waterfall" granite with under mount sinks and Moen Kingsley lavatory valves.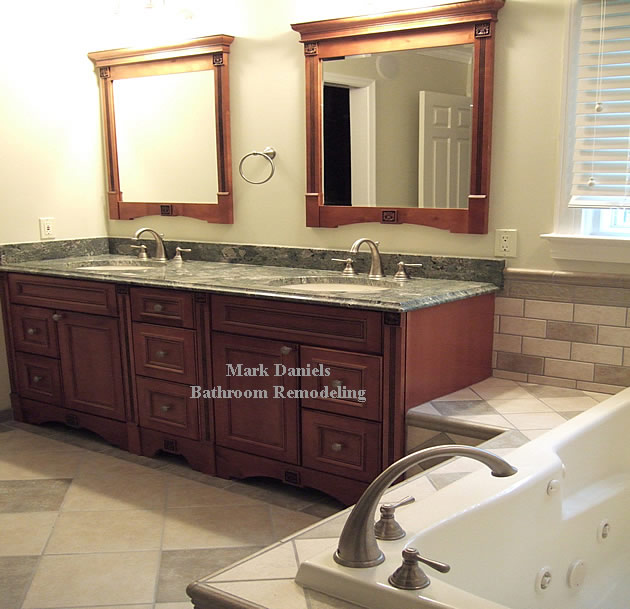 Two 36' bathroom vanities with a 12' drawer unit between. Matching framed mirrors.
Aker SB 42 x 60 with jets and Moen Kingsley roman tub filler. Bathroom shower area.
Before the remodel pictures with the wall removal. George Mason U, Fairfax neighborhood.
This was a major master bathroom remodel with new toilet placement and wall moving. The crown molding detail picture with 3/4" bull nose corner bead is made with a 5/8" back cut on 22 1/2 degree pieces. Tile is Dal ceramic tile "Village Bend". Moen "Kingsley" brushed series valves. Tub and shower pan are Aker color Bisques
Bathroom contractor's bathroom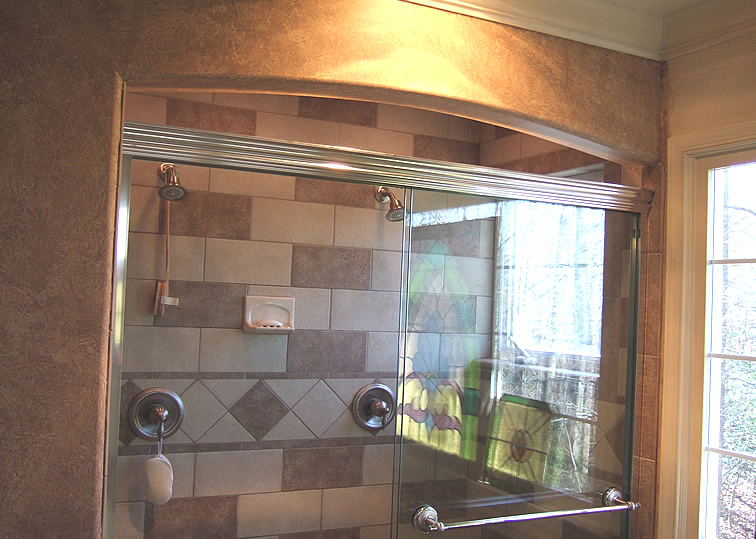 Bathroom remodeling picture with arched wall and bull nose corner bead. Maxx Aker frame less shower door.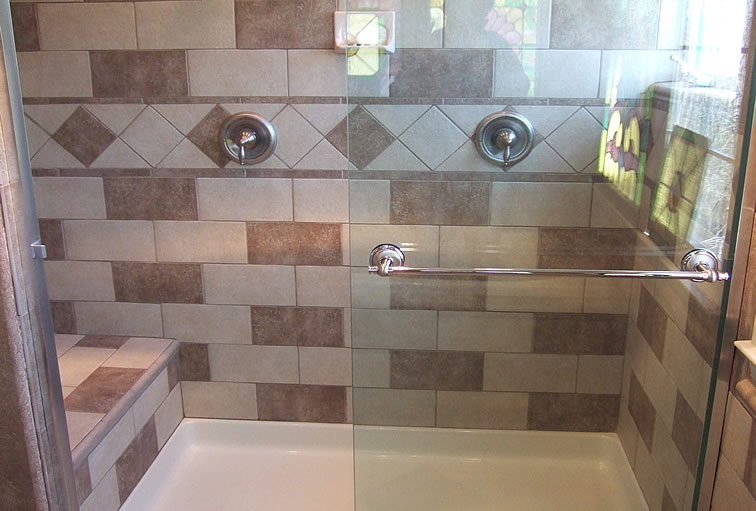 Master bathroom with 3 shower heads, seat, window at chin height, 3 can lights, frame less shower door and 250 watt heat bulb outside of shower
Private bathroom toilet area with arched entry, bull nose corner bead. Bath chair rail tub edge.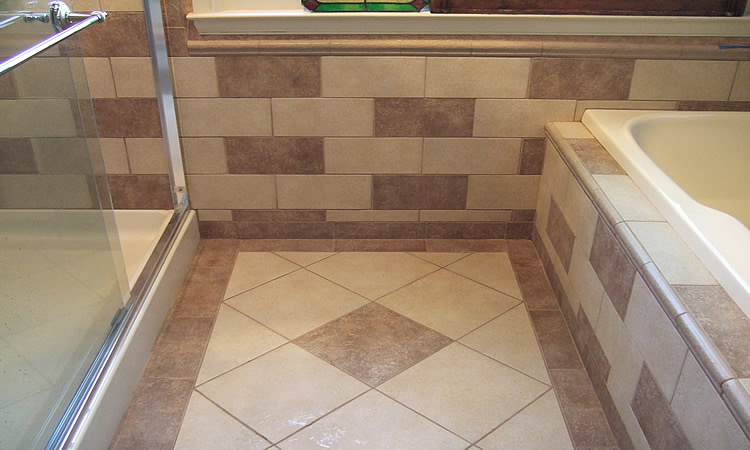 Aker 6ft master bath set in tub deck with chair rail ceramic edge detail. Diagonal bathroom floor with border worked to full half tile. Dal tile "Village Bend " series tile.
<p>Picture of shower seat with hand held shower. Bathroom shower window. Contact Mark Daniels for kitchen or bathroom remodeling estimat
Manassas Master Bathroom Remodeling
Brick or running bond 10x13 tile. Maxx Aker jetted 6ft x36" with tub mounted valve.
Jacuzzi neo angle shower base with tiled shower seat. Two 3' vanities with 12" drawer unit between. Custom sized cultured top with integral sinks.
Powder bathroom remodeling with tumbled marble floor, rough plumbing moved to have symmetry of plumbing valves below pedestal sink. Dual sconces sidelight the face!
Two sink master bathroom with custom cut tile floor inserts, Max Aker frame less shower door . Kohler shower bas
Brick bond tile pattern in main bathroom, pedestal sink and simple but nice accent strip
Designer powder bathroom make over.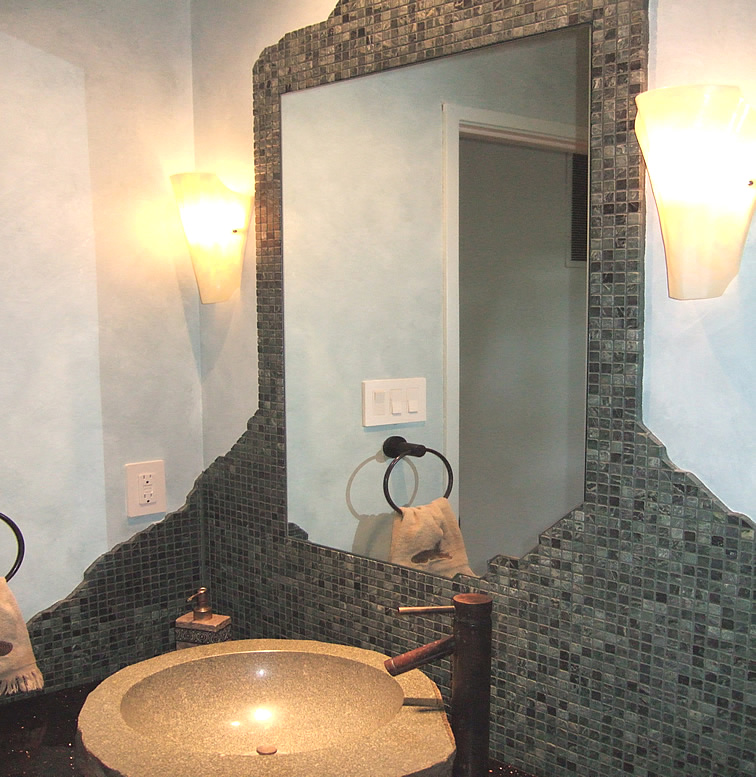 Dual sconces, custom cut mirror fits into ragged green marble tile.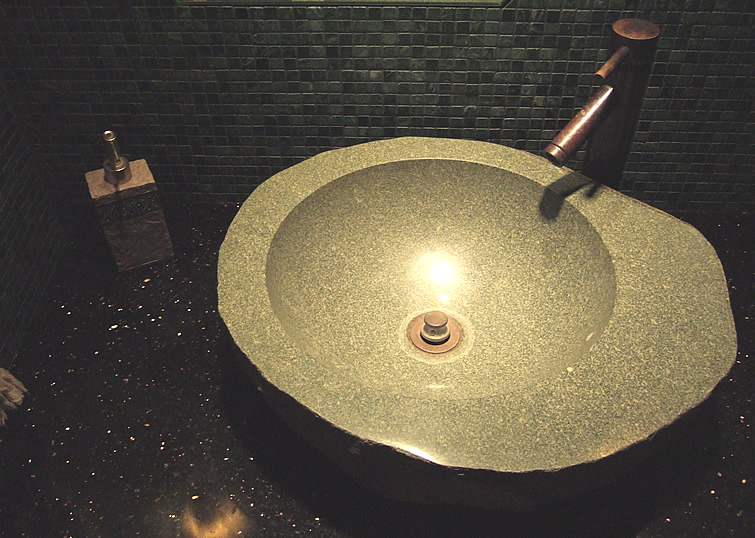 Freeform tiled powder room, faux painted, granite sink.
Black galaxy granite base molding with cork floor. One piece toilet.
Main or kids bathroom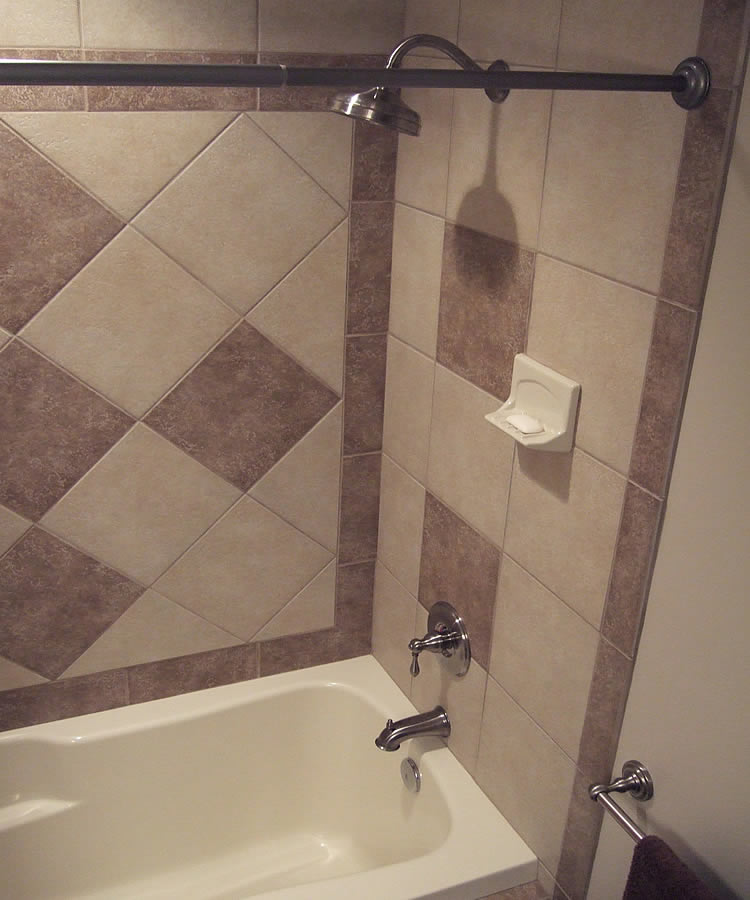 Daltile "Village Bend " series tile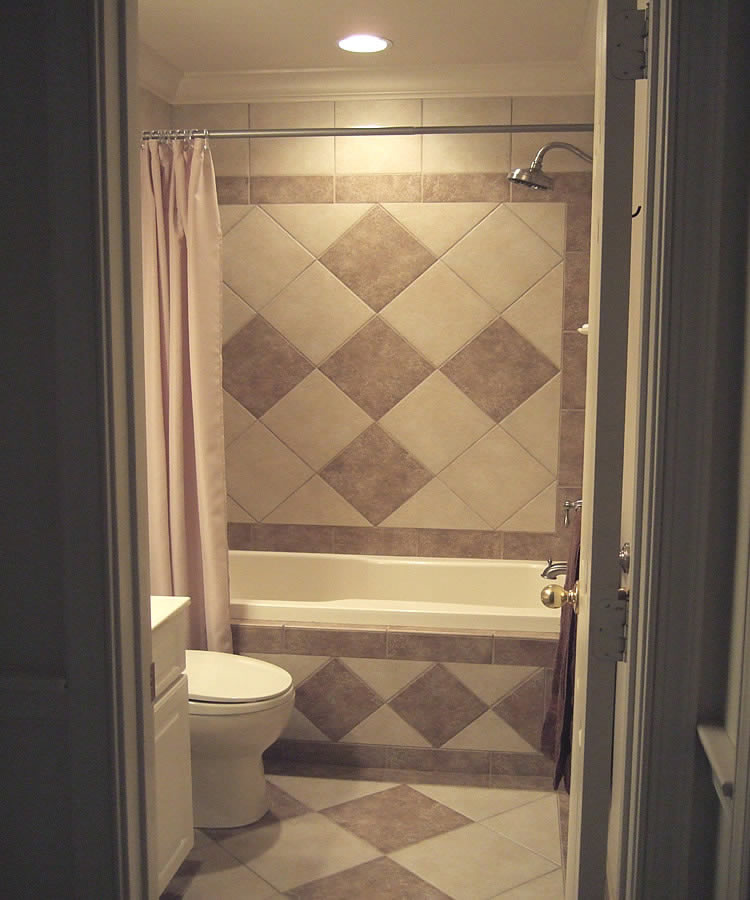 Shower wall on diagonal, worked out to the" full half with balance border". Notice no skirt on tub but tiled for much nicer look. Maxx Aker 5ft tub, comfortable, about the same as the Jacuzzi Cetra
Sidelight sconces, granite top w/under mount sink. Recessed shower lights.

Master bathroom, 6x6 tile stack bond tile pattern. Grohe shower valve
Small master bathroom, Jacuzzi Bonaire shower base with seat
Custom mud set shower stall with Grohe valve and body sprays
marble master bathroom remodeling with 5ft mud set shower stall, 2 shower heads
I like the sconces. Off the shelf granite top.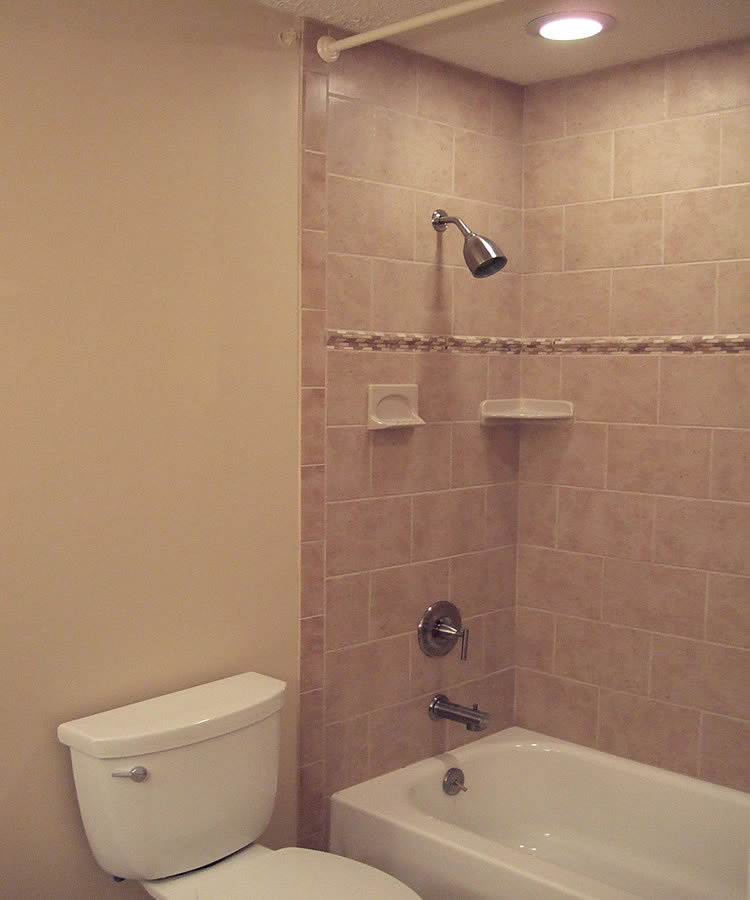 Brick bond tile layout, tile accent strip.
Basement bathroom, stack bond 6x6 tile, formless shower door, pedestal sink
Brick bond tile, tiled tub skirt, chin height window added, curtains make bath

Bathroom marble seat with cut-in glass block wall facing private courtyard
Grohe shower tower unit, mud set shower pan with 1inch glass tiles, stack bond 12x12 tiles
Square drain for easier tile work, full height vanity mirror with hole cut for light fixture. Corian integral countertop. Maple 4ft vanity. Contact Mark Daniels for kitchen or bathroom remodeling estimate
Main bathroom tub shower with 10x13 tiles stack bond with hand held shower
Basement bathroom with 12x12 tiles stack bond, floor diagonal, frame less shower door, granite top with under mount sink, ADA height elongated toilet
Mud set shower pans
Chair rail picture framed tile to left. "neo" angle custom sized mud set shower pan. Notice tile layout is symmetrical along the walls and around the drains. Mud set shower pans generally add $1500 to the cost of fiberglass shower pan job.
1 inch blue glass tiles with square shower drain to tile easy. Marble custom cut pan.